Mission In Black play their own unique mix between traditional and modern melodic thrash metal. A blend of neckbreaking riffs, harmonic guitar-leads, clean and brutal vocals, unrestrained drive and agression is what makes Mission In Black a band with an explosive metal toughness and epic depth.
Founding year: 2010
Founding members: Andy Flache, Daniel Tschoepe, Martin Grimm, Hannes Jäger
Demo 2011: Black Infect
Music video 2012: Legendary Drunk
MISSION IN BLACK played several shows with bands like Brainstorm and Mystic Prophecy for example and headlined the Shady Side Festival in South Germany.
Hannes and Martin left the band in 2013/2014 due to their jobs and to spend more time with their families. Andy (drums) and Daniel (guitar) kept making music, developed the songs further and finally recorded the first full-length album "ANTHEMS OF A DYING BREED" together with singer Becky Gaber (ex-My Inner Burning) in 2017. Martin and Hannes rejoined the band for this time to support Daniel and Andy for the recordings.
In May 2018 their debut album "ANTHEMS OF A DYING BREED" was released worldwide by El Puerto Records. Shortly after that, the band also published the official music video for the song "WELCOME THE APOCALYPSE".
In the middle of 2018 Steffi Stuber (vocals, ex-Enslave the Chain, ex-V.O.Y.D.) and Fabian Guist (guitar/bass) joined MISSION IN BLACK to ensure a constant line-up for capturing stages again!
Playing live all around Europe with bands like Brainstorm, Mob Rules, Undertow, Majesty, Rebellion, Maxxwell, Bloodlost and Bridear, MISSION IN BLACK have proven that they're able to keep up with those bands – and they´re getting stronger with every show!
In November 2018 MISSION IN BLACK returned to Andy Classen's Stage One Studio to re-record a few songs of their debut album with the powerful voice of Steffi.
Two of the songs ("OCEANS OF BLOOD" and "JUDGMENT DAY") were released by El Puerto Records in 2019 as a strictly limited 7" vinyl single (only 300 items!) to shorten the waiting time for the next album.
Furthermore MISSION IN BLACK released a new videoclip for "OCEANS OF BLOOD", too. It is dedicated to the international marine wildlife conservation organization SEA SHEPHERD.
Also MISSION IN BLACK finally have a permanent bass player in the line-up again: Simon Schorp (Scarcrow) has joined the band and together with drummer Andy he forms the backbone of the band.
The unofficial band anthem "Mission In Black" was re-recorded with Steffi's vocals and was released as a digital single and video at the end of May 2019 after the track had previously been released on CD by german Online Magazine PowerMetal.de on its "Metalliance" sampler.
Due to personal reasons Fabian Guist decided to leave the band in summer 2020. He was replaced by Eddie Stübner and with this line-up MISSION IN BLACK is creating new material for their next album!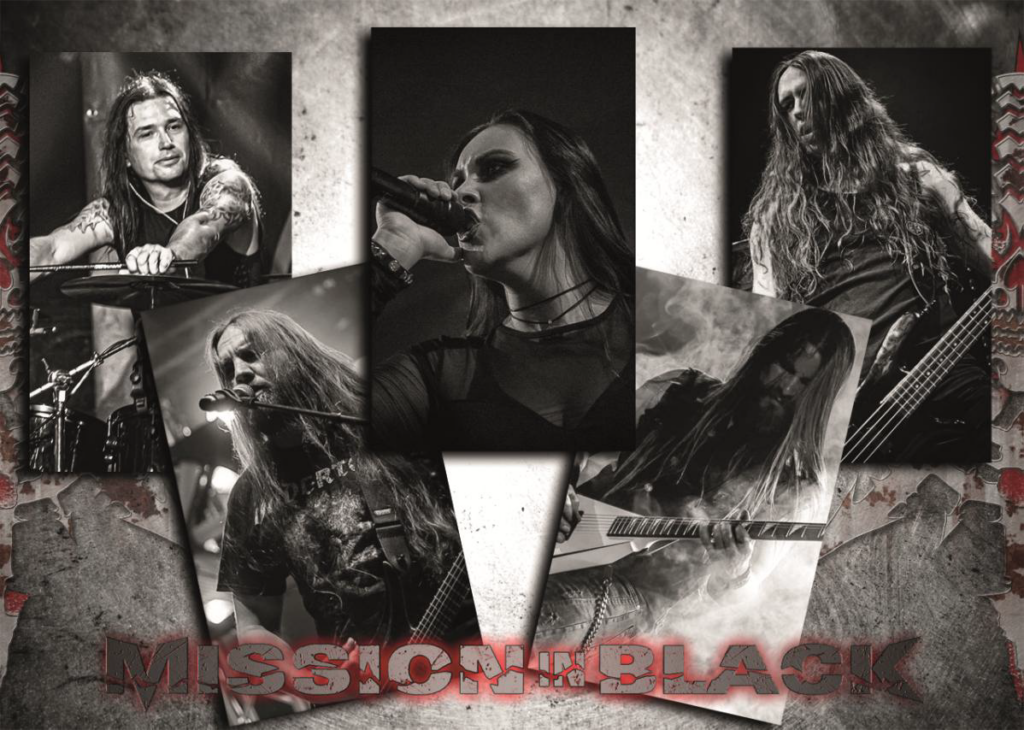 Andy "Black" Flache – drums
Eddie Stübner – guitars
Steffi Stuber – vocals
Daniel Tschoepe – guitars
Simon Schorp – bass