MISSION IN BLACK is a 5-piece melodic thrash/death metal band from the Baden Württemberg region in Germany and have been active since 2010. Their energetic sound is shaped largely by the extraordinarily versatile vocal performance presented by their female singer. The MISSION IN BLACK sound draws from traditional and modern elements to forge metallic heaviness with epic depth resulting in an explosive mix of melodic death and thrash metal!

After being founded in 2010 by Andy Flache, Daniel Tschoepe, Martin Grimm and Hannes Jäger, it didn't take long before the release of their demo "Black Infect" in 2011. Their first music video for the song "Legendary Drunk" appeared shortly afterwards in 2012, followed by a string of concerts sharing the stage with the likes of Brainstorm and Mystic Prophecy and also headlining the "Shady Side Festival".

After Hannes and Martin left the band in 2013, to concentrate more on their families and careers, Andy (drums) and Daniel (guitar) kept on developing the band and in 2017 recorded their first full-length album "Anthems Of A Dying Breed" featuring female singer Becky Gaber (ex-My Inner Burning), which was released through El Puerto Records in May of 2018 and followed by the music video to "Welcome The Apocalypse".

Through the addition of talented female vocalist Steffi Stuber (ex-Enslave The Chain, ex-V.O.Y.D., participated in "The Voice Of Germany" 2019) and Fabian Guist (bass/guitar, ex Black Exhalation) in 2018, MISSION IN BLACK were able to receive strong support and with fresh talent, energy and renewed enthusiasm were once again able to provide strong live capabilities. They solidified as a group and proved their worth through impressive performances both locally and abroad going on stage with established acts such as Brainstorm, Mob Rules, Undertow, Majesty, Rebellion, Nitrogods, Maxxwell, Bloodlost and Bridear amongst others!

November 2018 saw the band in the studio again, with producer Andy Classen at the renowned Stage One Studio, to re-record some of their songs off their debut album, showcasing the incredible voice of new vocalist Steffi Stuber.

Two of these tracks "Oceans of Blood" and "Judgement Day", were released again through El Puerto Records, as strictly limited 7" vinyl singles (limited to 300 copies) to bridge the gap to their upcoming album! In support of their new album the band also released a further music video for the song "Oceans of Blood", dedicated to the marine conservation organization Sea Shepherd.

In Simon Schorp (Scarecrow), the band eventually found a permanent bassist to complete their line-up. Together with drummer and founding member Andy, they provide the band with a powerful and driving rhythm section.

The unofficial band hymn "Mission In Black" was also rerecorded including Steffi's impressive vocals and released in May 2019 as a digital single and video, after the track had previously been released on the "Metalliance" sampler by PowerMetal.de on CD.

When Fabian left the band in 2020 for personal reasons, Eddie Stübner replaced him as the new guitarist in the line-up. His first show with the band was already to be in late September 2020 at the Hexenhaus in Ulm, during the pandemic and has been one of the most obscure gigs in the band's history: the band played indoors to an empty venue, while their performance was being projected onto a screen outside… totally strange and surreal!

One of the concert highlights in 2021 has been the Area 53 Festival in Leoben, Austria. Eventhough there were still partially incomprehensible covid restrictions in place for arts and culture in Germany, people in Leoben were already allowed to experience a glimpse of normality… rarely have we seen so many happy and delighted faces! This was followed by further concerts at "Hard 'n' Heavy Open Air in Satteins, Austria (along with Mortician amongst others), as well as playing the headliner slot for "Upper Saw Festival" near Balingen. In 2022 the band played at "Rock am Härtsfeldsee", "Wisdom Tooth Festival", as co-headliner before Brainstorm and finally at "Summer Breeze Festival" before concentrating on song writing for the new album.

The band is constantly evolving their sound, which they demonstrate by the heavier song writing that can be heard on the new material and are looking forward to a strong 2023 with the upcoming release of their new album "Profit Reigns Supreme", which was recorded & produced at the "Greenman Studios" by Sebastian "Seeb" Levermann (Asphyx, Orden Ogan, Rhapsody of Fire, Brainstorm u.a.).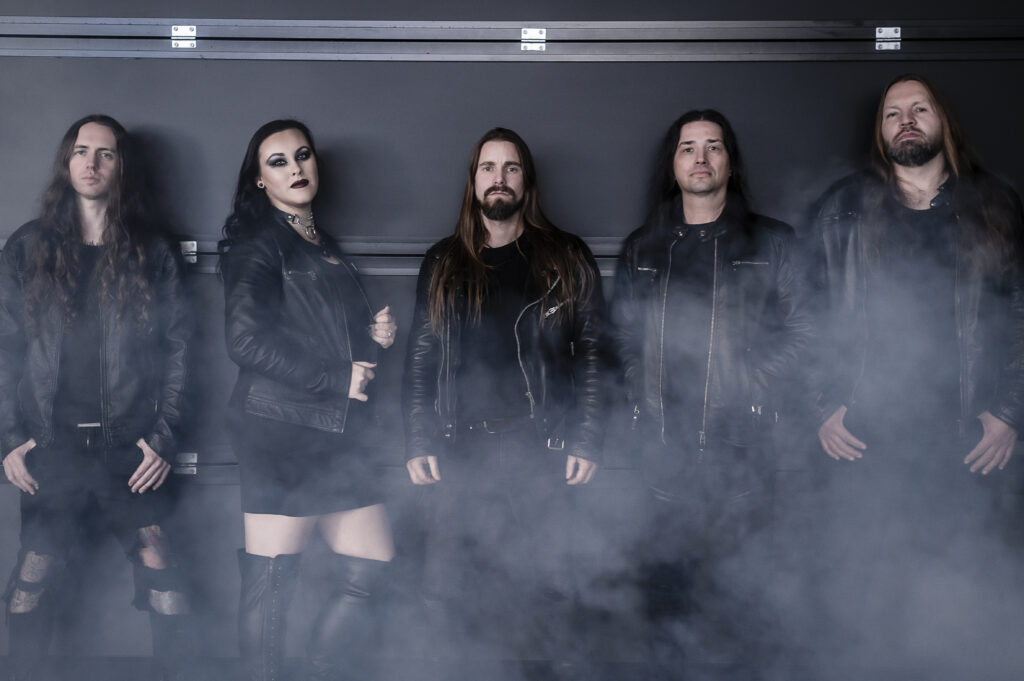 Simon Schorp – bass
Steffi Stuber – vocals
Daniel Tschoepe – guitars
Andy "Black" Flache – drums
Eddie Stübner – guitars